Welcome To The OHTSL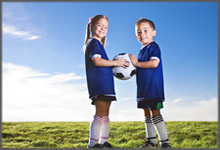 This is the web site of the Ohio Travel Soccer League. The OHTSL is a Youth soccer league for Travel/Community clubs both boys and girls between the ages of 8-14/15. The league is comprised of in excess of 50 communities throughout Northeast Ohio with both competitive and geographical brackets.
We are currently accepting applications to join for the fall season.
For more information about the League or to consider joining please contact Executive VP Howard Klebanow at hklebanow@gmail.com or at 216-469-7104.
US Soccer Federation Announcement
In another step towards improving long-term player development in the United States, the U.S. Soccer Federation is phasing in new mandatory standards related to small-sided games and birth-year registration, according to a statement released Monday night.
These coaching initiatives, which will be mandated to apply to all U.S. Soccer members by August 2017, include age groups based on birth-year registration (from January 1 to December 31) consistent with international standards. Simultaneously, U.S. Soccer will also mandate new small-sided and field size standards for U-6 through U-12 age groups.
Click here for the official U.S. Soccer Federation announcement and presentation.
The mandate for birth-year registration represents a shift away from the current practice of teams being organized based on player birth dates from August to July. The change means that teams will in future be organized based on birth years. In most cases, player passcards will continue to be issued on an Aug. 1-July 31 competition season.
US Club Soccer is coordinating implementation with US Youth Soccer and other youth soccer organizations to ensure the smoothest and most efficient transition. US Club Soccer will update members on the timetable for implementation within the next few weeks.
About US Club Soccer
A National Association member of the U.S. Soccer Federation, US Club Soccer is an organization committed to the development and support of soccer clubs in the United States.
US Club Soccer offers youth and adult registration, league- and cup-based competition platforms at the recreational and competitive levels, as well as a variety of other programming, including the Olympic Development Program-sanctioned id2 Program and Player Development Programs.
Through US Club Soccer, all of a club's programs – recreational, competitive and adult – are able to be united under one organizational umbrella, creating a "members for life" culture within each club. US Club Soccer is sponsored by Nike.
REGISTER NOW FOR THE 2016 OHIO INDOOR TRAVEL CUP
FEBRUARY 5TH - 7TH U8 - U12
MARCH 4TH - 6TH U13 - HIGH SCHOOL
SOCCER SPORTSPLEX
NORTH OLMSTED, OH
*GIRLS AND BOYS COMMUNITY/TRAVEL TEAMS ARE INVITED*
*TRAPPED 8TH GRADERS ARE ELIGIBLE*
*FIELDS HAVE WALLS/BOARDS*
*U8-U12 PLAYS 7 V 7, U13 - HIGH SCHOOL PLAYS 6 V 6*
*THREE 27 MINUTE GAMES GUARANTEED ON THE SAME DAY*
*FINALS ON SUNDAY (TWO 27 MINUTE HALVES)*
*$250.00 PER TEAM*
*NO ONLINE REGISTRATION AVAILABLE*
*NO CREDIT CARD PAYMENTS ACCEPTED*
*CLICK ON THIS LINK FOR THE REGISTRATION FORM:
http://www.ohtsl.com/procedures/file235.pdf
Click here to view the Tournament Rules
*MAIL CHECK (PAYABLE TO OHTSL) AND REGISTRATION FORM TO:
OHTSL, PO BOX 391257, SOLON, OH 44139
BY 1/20 FOR U8- U12 AND BY 2/17 FOR U13- HIGH SCHOOL*
***LIMITED SPOTS AVAILABLE...REGISTER EARLY****
CONTACT TOURNAMENT ADMINISTRATOR DAWN DICICCO AT
TOURNAMENT.ADMIN@OHTSL.COM OR 216-214-0083 W/QUESTIONS!
Billing Information
Please send declaration / forfeit fees to the following address:
NOGSL/OHTSL
PO Box 16205
Rocky River, OH 44116