Welcome To The OHTSL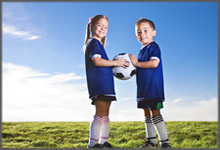 This is the web site of the Ohio Travel Soccer League. The OHTSL is a Youth soccer league for Travel/Community clubs both boys and girls between the ages of 8-14/15. The league is comprised of in excess of 50 communities throughout Northeast Ohio with both competitive and geographical brackets.
We are currently accepting applications to join for the fall season.
For more information about the League or to consider joining please contact Executive VP Howard Klebanow at hklebanow@gmail.com or at 216-469-7104.
U12 - HIGH SCHOOL OHIO INDOOR TRAVEL CUP INFORMATION

MARCH 4TH - 6TH U12 - HIGH SCHOOL
SOCCER SPORTSPLEX
NORTH OLMSTED, OH
1.  The tournament is being held at the Soccer Sportsplex, 31515 Lorain
Road, North Olmsted, Ohio.

2.  ONLY INDOOR CLEATS/ATHLETIC SHOES ARE PERMITTED AT THE SOCCER
SPORTSPLEX.  No outdoor cleats can be worn.

3.  Team check in will take place at least 30 minutes prior to the start
of your teams first game at a table near Field #1 at the facility.  The
following must be presented at the time of team check in:

          *The liability form (see below link) listing all player's names and
dates of birth WITH a parent signature.  This form MUST be completed in
full prior to the start of your first game.  While we prefer to have all
names and signatures on one form, we will accept multiple forms (that  can
be emailed to parents) as we acknowledge that sometimes it is  difficult
to get everyone to sign one form.  Please make sure you have  all names
and signatures before checking in.

          *Proof of proper age must be presented for each player by
providing either player passes from the player's league of play OR a
birth certificate.  Please refer to the US Club age chart for
proper age placement.

          *A certificate verifying that each coach who will be on the
sidelines is current with his/her Ohio Concussion Law requirements.
Please note that if you certified through NFHS and do not have the  actual
certificate, you can go to www.nfhslearn.com and clcik on USER  LOOKUP.
Once you type in the coach's name and state, the date that  he/she
received the certifciation will appear.   A screen shot of that  screen is
sufficient proof of certification if the certification took  place less
that three years from the date of issue as certifications are  good for
three years from the date they are issued.  PLEASE NOTE THAT  ANY PROOF
PROVIDED MUST HAVE AN ISSUE DATE NOTED.  A COACH WILL NOT BE  PERMITTED TO
COACH IF THIS PROOF IS NOT PROVIDED.  Also, please note  that MANY OHTSL
coaches first received this certification in early 2013;  so make sure
your certification has not expired.  If your certification  has expired,
or if you need to get one for the first time, you can  complete a FREE
online course by going to www.nfhslearn.com and
searching for Concussion in Sports.  Once you complete the online  course,
you will be able to print a certificate.  I have attached a copy  of
Ohio's Return to Play law for further reference.

*GIRLS AND BOYS COMMUNITY/TRAVEL TEAMS ARE INVITED*
*TRAPPED 8TH GRADERS ARE ELIGIBLE*
*FIELDS HAVE WALLS/BOARDS*
*U12 PLAYS 7 V 7 AND U13 - HIGH SCHOOL PLAYS 6 V 6*
*THREE 27 MINUTE GAMES GUARANTEED ON THE SAME DAY*
*FINALS ON SUNDAY (TWO 27 MINUTE HALVES)*
*$250.00 PER TEAM*
*NO ONLINE REGISTRATION AVAILABLE*
*NO CREDIT CARD PAYMENTS ACCEPTED*
*CLICK ON THIS LINK FOR THE REGISTRATION FORM:
http://www.ohtsl.com/procedures/file235.pdf

Click here to download the Tournament Liability Waiver Form
*MAIL CHECK (PAYABLE TO OHTSL) AND REGISTRATION FORM TO:
OHTSL, PO BOX 391257, SOLON, OH 44139 by February 17th.

***LIMITED SPOTS AVAILABLE...REGISTER EARLY****
CONTACT TOURNAMENT ADMINISTRATOR DAWN DICICCO AT
TOURNAMENT.ADMIN@OHTSL.COM OR 216-214-0083 W/QUESTIONS!
2016 OHTSL Scholarship
The Ohio Travel Soccer League (OHTSL) is offering a scholarship program for the girl's and boy's division of OHTSL. Four (4), $1000 scholarship will be awarded in each division. Please see the cover letter for eligibility requirements. The completed application must be post mark by April 9, 2016. Recipients will be announced on the web site after May 7, 2016 and presentation of the scholarship will at the OHTSL All Star game on May 21, 2016.
These documents can be downloaded by clicking on the links below.

Please direct any questions, to Greg at secretary@ohtsl.com
2016 OHTSL Scholarship Cover letter
Billing Information
Please send declaration / forfeit fees to the following address:
NOGSL/OHTSL
PO Box 16205
Rocky River, OH 44116