Welcome To The OHTSL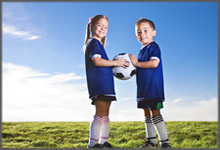 This is the web site of the Ohio Travel Soccer League. The OHTSL is a Youth soccer league for Travel/Community clubs both boys and girls between the ages of 9-14/15. The league has communities throughout Northeast Ohio with both competitive and geographical brackets.
For more information about the League or to consider joining please contact Executive VP Howard Klebanow at hklebanow@gmail.com or at 216-469-7104.
Billing Information
Please send payments to the following address:
NOGSL/OHTSL
PO Box 16205
Rocky River, OH 44116
REGISTRATION FOR THE 2014 OHIO TRAVEL CUP IN LODI IS NOW OPEN
WE ARE PLEASED TO ANNOUNCE THAT REGISTRATION FOR THE 2014 OHIO TRAVEL CUP IS NOW OPEN!!!!
THE TOURNAMENT WILL TAKE PLACE OCTOBER 18TH AND 19TH, 2014 AT THE NORTH COAST PREMIER SOCCER COMPLEX, 8809 LAKE ROAD, SEVILLE, OHIO 44273 (ALSO KNOW AS LODI FIELDS).
THE TOURNAMENT IS OPEN TO BOYS AND GIRLS COMMUNITY TRAVEL TEAMS U8-U14 (TRAPPED 8TH GRADERS ARE ELIGIBLE TO PLAY)
THE COST FOR THE TOURNAMENT IS $295 FOR U8-U12 AND $325 FOR U13-U14.
TO REGISTER FOR, OR TO RECIEVE ADDITONAL INFORMATION ABOUT THE TOURNAMENT, GO TO THE TOURNAMENT WEBISTE, WWW.OHIOTRAVELCUP.COM
REGISTRATION DEADLINE IS SEPTEMBER 27TH, 2014
CONTACT DAWN DICICCO AT TOURNAMENT.ADMIN@OHTSL.COM OR 216-214-0083 WITH ANY QUESTIONS.